Mining Ethereum just became more profitable since October 25th because of coding changes (called the Byzantium fork).
And that could be why HIVE Blockchain Technologies (HIVE – TSXV) is up more than 30% in the last two days to close at record high of $4.09 CDN. HIVE is one of the largest Ethereum miners in the world and the only publicly-traded Ethereum mining company.
Just look at this chart: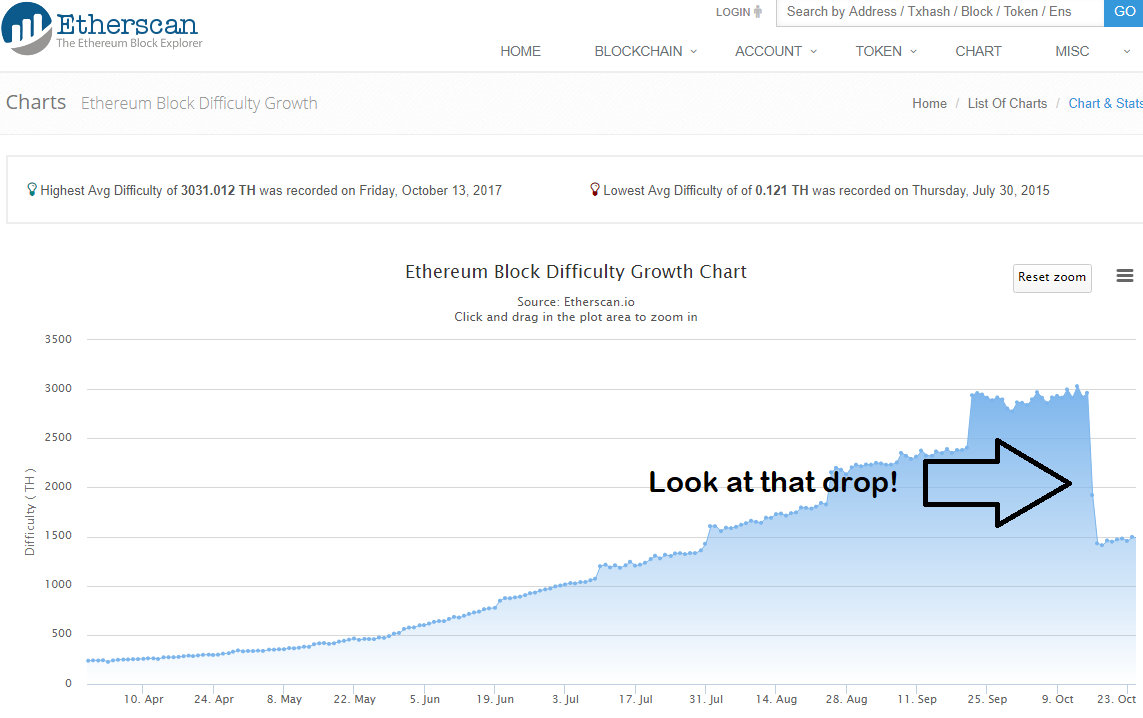 I will spell it out for you. In the last week, it's now twice as easily to "mine" a block (and thus gain a reward of Ether) as it was before.
But the bad news is that the reward for mining a block has been reduced from 5 to 3 Ether.
Still, that's net increase of 20% in earning power. This is better news that it sounds because most forecasts assumed that the mining difficulty would increase.

Meanwhile, the price of Ethereum has stayed remarkably stable: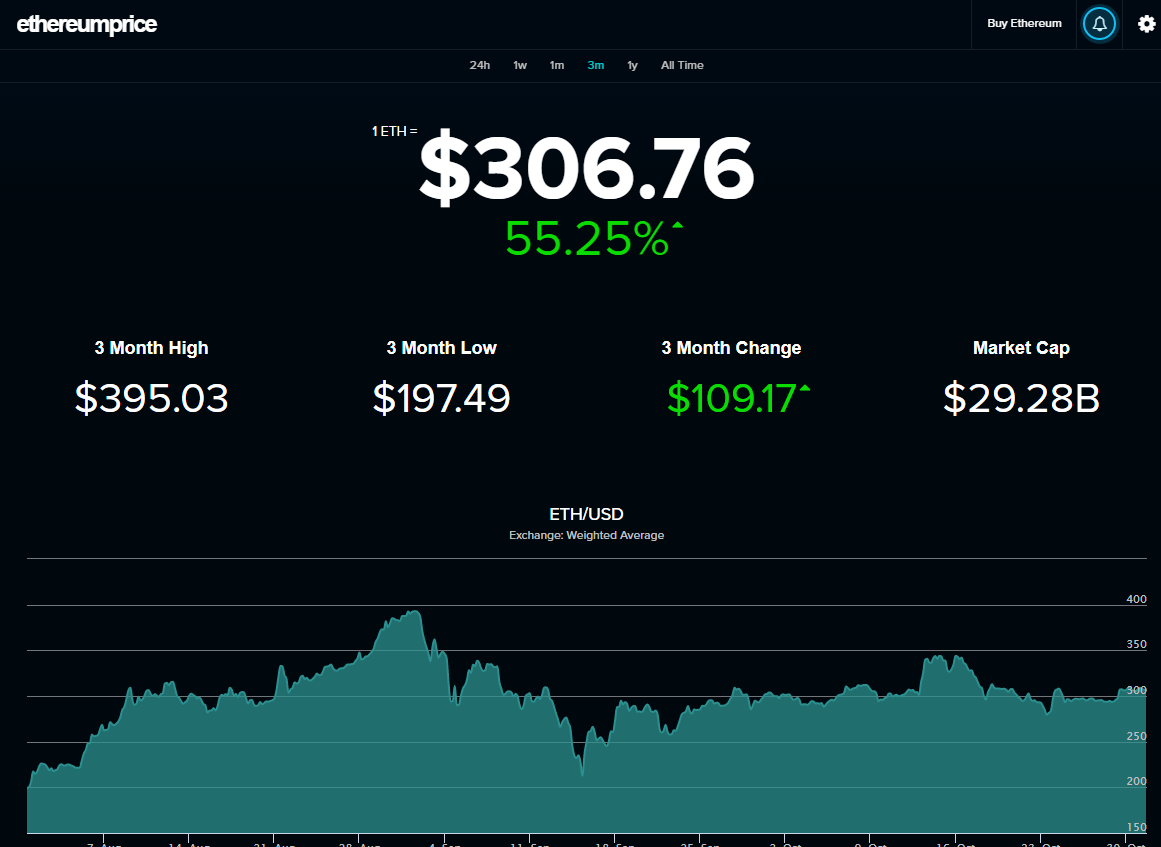 I bought more HIVE at around $4.00, which closed today at $4.09.
It is impossible to estimate profitability or even cashflow of the HIVE data centres as no public figures have been released. But we can make some educated guesses.
The Radeon R9 295X2 mining rig is considered one of the best Ethereum mining rigs on the market.
Here are the specs:
Cost (Retail not wholesale): $600
Hash power: 46 MH/s
Power consumption: 500 watts
Assume 5 cents US for kilowatt hour of electricity
At 1500 Terahash, it throws off $54 net profit per month.
Before the profit bump, it would have generated only $40.
It is safe to assume that the profitability of Ethereum mining rigs has more than doubled in the last 5 days.
How should this impact the share price of HIVE?
Well considering the mining rigs they bought six months (or even a year) ago are now more profitable, when all planning forecasts predicted they would be less profitable, then perhaps the skyrocketing price of HIVE is more…understandable.
The next question you should ask is:
"Is this a temporary thing or is this permanent?"
I don't know.
But I bought more shares yesterday.
By Ross Pilot via www.newcurrencyfrontier.com
DISCLOSURE. The Company does not make any guarantee or warranty about what is advertised above. The Company is not affiliated with, any specific security. While the Company will not engage in front-running or trading against its own recommendations, The Company and its managers and employees reserve the right to hold possession in certain securities featured in its communications. Such positions will be disclosed AND will not purchase or sell the security for at least two (2) market days after publication.
The opinions expressed in this article are exclusively those of the author and have in no way been approved or endorsed by HIVE. This article and the information herein are provided without warranty or liability.
SHARE OWNERSHIP. The owner of Safehaven.com owns shares of this featured company and therefore has an additional incentive to see the featured company's stock perform well. The owner of Safehaven.com will not notify the market when it decides to buy more or sell shares of this issuer in the market, but will not trade on material information that has not been disclosed to the public. The owner of Safehaven.com will be buying and selling shares of this issuer for its own profit. This is why we stress that you conduct extensive due diligence as well as seek the advice of your financial advisor or a registered broker-dealer before investing in any securities.
NOT AN INVESTMENT ADVISOR. The Company is not registered or licensed by any governing body in any jurisdiction to give investing advice or provide investment recommendation. ALWAYS DO YOUR OWN RESEARCH and consult with a licensed investment professional before making an investment. This communication should not be used as a basis for making any investment.
INDEMNIFICATION/RELEASE OF LIABILITY. By reading this communication, you agree to the terms of this disclaimer, including, but not limited to: releasing The Company, its affiliates, assigns and successors from any and all liability, damages, and injury from the information contained in this communication. You further warrant that you are solely responsible for any financial outcome that may come from your investment decisions.
PAST PERFORMANCE IS NOT INDICATIVE OF FUTURE RESULTS. Investing is inherently risky. While a potential for rewards exists, by investing, you are putting yourself at risk. You must be aware of the risks and be willing to accept them in order to invest in any type of security. Don't trade with money you can't afford to lose. This is neither a solicitation nor an offer to Buy/Sell securities. No representation is being made that any account will or is likely to achieve profits or losses similar to those discussed on this web site. The past performance of any trading system or methodology is not necessarily indicative of future results
CFTC RULE 4.41 - HYPOTHETICAL OR SIMULATED PERFORMANCE RESULTS HAVE CERTAIN LIMITATIONS. UNLIKE AN ACTUAL PERFORMANCE RECORD, SIMULATED RESULTS DO NOT REPRESENT ACTUAL TRADING. ALSO, SINCE THE TRADES HAVE NOT BEEN EXECUTED, THE RESULTS MAY HAVE UNDER-OR- OVER COMPENSATED FOR THE IMPACT, IF ANY, OF CERTAIN MARKET FACTORS, SUCH AS LACK OF LIQUIDITY. SIMULATED TRADING PROGRAMS IN GENERAL ARE ALSO SUBJECT TO THE FACT THAT THEY ARE DESIGNED WITH THE BENEFIT OF HINDSIGHT. NO REPRESENTATION IS BEING MADE THAT ANY ACCOUNT WILL OR IS LIKELY TO ACHIEVE PROFIT OR LOSSES SIMILAR TO THOSE SHOWN.
All trades, patterns, charts, systems, etc., discussed in this message and the product materials are for illustrative purposes only and not to be construed as specific advisory recommendations. All ideas and material presented are entirely those of the author and do not necessarily reflect those of the publisher. No system or methodology has ever been developed that can guarantee profits or ensure freedom from losses. No representation or implication is being made that using the methodology or system will generate profits or ensure freedom from losses. The testimonials and examples used herein are exceptional results, which do not apply to the average member, and are not intended to represent or guarantee that anyone will achieve the same or similar results.
The information contained herein may change without notice.